SMART batteries are designed to help extend the performance of your two-way radio. Compared to your regular battery, SMART batteries have longer runtimes which mean more use between charges.
Remember, your battery is just as important as your two-way radio because, without a good quality battery, you're left in the dark and without critical communication.
Although SMART batteries are more expensive than a regular battery, the advantages it has on your radio are worth the extra spend.
What is a SMART battery?
A SMART two-way radio battery goes the extra distance and provides longer runtimes and greater cycle strength compared to regular batteries.
To help you remember the benefits of a SMART battery, I came up with a clever acronym for each letter that describes what a SMART battery does.
Short charge time
Maximize performance
Apx radio capabilities
Rechargeable diagnostic battery
Tough – IP68 rating
Why use SMART batteries?
Below are 5 reasons why you should switch over to SMART batteries for your two-way radio.
Better Components
Impress Compatibility
Snug fit
Intelligent Technology
Short and Long Batteries Available
1. Better Components
SMART batteries are designed using better components compared to standard batteries. The charge time is a lot shorter, and every charge reconditions the battery for longer use.
The self-discharge rate is less than 5% per month, which is 1/3 less than those of other batteries in the same chemistry.
The batteries are field-tested and used by Police, Firefighters, and the U.S. Military throughout the country meaning SMART batteries are durable in any environment.
SMART batteries usually are designed with better components because of their intelligent technology, which we'll talk about in just a few moments.
Lastly, these batteries are designed with Japanese cells and gold-plated contacts for improved battery durability. You can also find IP64 rated batteries if you require use near fire or hazardous environments.
2. Impress Compatibility
Aftermarket batteries like from Waveband Communications are Impress compatible. This means they can communicate with Motorola IMPRESS chargers giving you powerful battery insightafter every charge.
These batteries are not only compatible with Motorola IMPRESS chargers but are compatible with any radio manufactures chargers.
3. Snug Fit
You'll noticeably see a difference in stability with SMART batteries. When sat on a desk, the battery and radio do not wobble or tip over easily which is a big complaint we see with radio users.
The battery is designed for a tight fit to the radio so it's not loose keeping it always secure and powering your radio.
SMART batteries are also noticeably lighter in weight in others of the same capacity.
4. Intelligent Technology
SMART batteries are designed with intelligent technology. The batteries are enabled with a smart chip that reconditions the battery during every charge. This is how the battery still has long runtimes even after months of use.
During each charge cycle, critical data is displayed to show you the improvements in the battery's condition including Mah power and chemistry.
The cycle life found in SMART batteries is around 500+ hours vs 300 in standard batteries.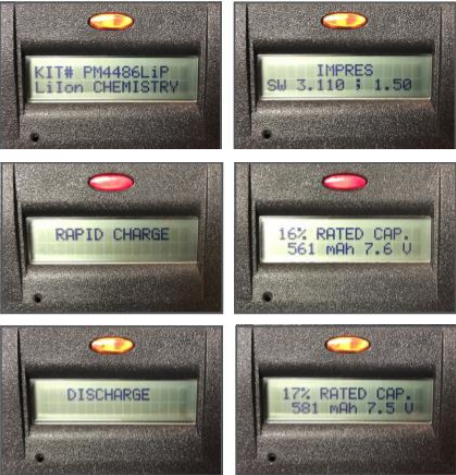 5. Short and Long Batteries
No matter the size of your radio, SMART batteries come in both short and long sizes giving you options for any radio you might have. The long batteries are used for XE models of Motorola radios.
SMART batteries are a great option for people looking for a battery with long runtimes and who want critical information with every charge. Not only are these types of batteries able to do that but you'll find yourself purchasing new batteries a lot less, saving you money.
Waveband Communications has a line of SMART batteries for popular two-way radios. Our batteries come with an extended warranty of 24 months. For more information on SMART batteries visit our Radio Smart Battery page.
About the Author
TAYLOR THOMAS is a Marketing Manager at Waveband Communications. With her experience in critical communications, she helped public safety clients enhance their team communication through the help of two-way radio accessories.