Over the years, hearing protection technology in the form of tactical headsets, in-ear electronic hearing protection, and earplugs like those from 3M, Sonetics, MSA Sordin, and Howard Leight has been increasingly popular to prevent hearing loss. These hearing protection products have a wide range of features and vary in noise reduction rating, price, and battery life. All important aspects to consider before purchasing the best hearing protection for your specific needs.
This guide dives into headsets for shooting firearms, headsets with built-in two-way radios, headsets with Bluetooth, electronic hearing protection, earplugs options, and headsets for the military you can find now and into 2021.
Prevent hearing loss by usingearplugs, protective earmuffs, and noise-canceling headphones when near loud noises like engines, construction and manufacturing equipment, and firearms.
Before we get started in our guide, I want to talk about the need for wearing proper hearing protection and who is at risk.
What is Hearing Loss?
The Mayo Clinic defines hearing loss as damage to the inner ear that occurs during the aging process and being exposed to loud noise suddenly or overtime.
Who is at Risk?
According to theCenter For Disease control about 40 million adults aged 20-69 have noise-induced hearing loss. Below is a list of occupations that are considered very susceptible to noise-induced hearing loss.
Flight Crew Members

Construction Workers

Miners

Railway Workers

Racecar Drivers

Military Personnel

Welders and Metalworkers
Let's begin with our guide. Feel free to skip to certain sections if you know the type of headset you are looking for.
2021 Hearing Protection Headsets
Shooting Hearing Protection
3M Peltor Comtac V
3M Comtac series hearing defenders are the most popular shooting protection headset among law enforcement and military circles, which 3M has constantly improved to keep pushing the limits of comfort and protection.
The newest 3M Peltor Comtac V hearing defender is a modernized hearing protection solution that can be relied on in a variety of industries. The headset incorporates several features such as Omni-Directional environmental microphones and level-dependent electronic hearing protection to block out impulse and steady-state noises.
TheNoise Reduction Rating for the Comtac V is 20-23 dB depending upon the band and ear cushion. The battery life is about 200 hours and has a failsafe option for when batteries have died or been removed that still lets external communication to continue.
The Comtac V hearing defender is available on First Source Wireless for $450.
Key Features:
Environmental Listening for Auditory Situational Awareness

Talk-Through for Face-to-Face Verbal Conversation

Available in Neckband, Headband, and Accessory Rail Connection (ARC) Variations

Engineered to Prevent Cross-talk with Dual Comms

Balance Mode, Release Time, & Volume Boost Settings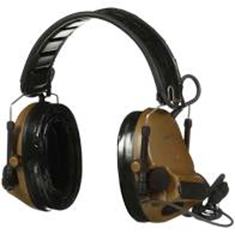 TEP-200 Ear Plugs
If you're not in the market for a full headset, 3M also has a product line of advanced hearing protection earplugs, which was recently upgraded with the introduction of the TEP-200.
Features include a rechargeable battery via Micro USB or 3-AA batteries, environmental microphones, level-dependent function, has an IP rating of 67, and offers an NRR of around 23 – 30 dB depending on your chosen communication tip.
The 3M Peltor TEP-200 is available for $349 at First Source Wireless.
Key Features:
Wirelessly Receive Audio Signals Using the Neckloop Accessory

16 Hour Battery Life with a 90 Minute Charge Time

Interchangeable Ear Tips for Environments with Different Noise Levels

Compatible with Most 3M Personal Protective Equipment Including Helmets, Hard Hats, and Face Shields
You can purchase the Comtac V, the TEP-200, and a whole range of otherpeltor ear protection from 3M atwww.firstsourcewireless.com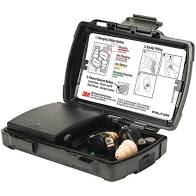 MSA Sordin Supreme Pro X
The MSA Sordin Supreme Basic is its entry-level headset and has a limited set of features that cover the bare minimum of protection needed when shooting. For this reason, we're going to specifically mention the MSA Sordin Supreme Pro X.
The Pro X includes a few technical upgrades such as sound amplification and natural sound reproduction, as well as a 3.5mm mono jack plug. The biggest downside to this headset is its NRR at 18 dB, which is 60% less than the protection offered by the Comtac III.
The MSA Sordin Supreme Pro X is priced at an average of $450.
Key Features:
Shaped Cups to Fit Left & Right-Hand Shooters

Waterproof Microphones for Optimum Sound

Waterproof Battery Compartment

Available in Headband or Neckband Configuration

AUX Input to Connect to External Devices Such as Radios or Cell phones
To purchase the MSA Sordin Supreme Pro X, you'll have to contact a representative on theirwebsite.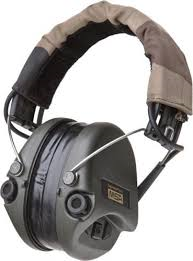 Howard Leight Impact Sport Electronic Earmuff
This earmuff is the most affordable option on our list for shooting protection options and was specifically designed for high impulse noises such as firearms.
Priced at only $70, these AAA powered earmuffs have an NRR rating of 22 dB, with technology that when switched on, amplifies ambient sounds up to 82 dB, while blocking out noises above and beyond that level which are very harmful to the unprotected ear.
Key Features:
Built-in Directional Microphones to Amplify Range Commands and other Ambient Sounds to Safe Levels

AUX Input with 3.5mm Connection Cord

Approximately 350 Hours of Battery Life, Plus the Feature to Power Down After 4 Hours of Non-use to conserve battery
The Howard Leight Impact Sport Electronic Earmuff can be purchased on theirwebsite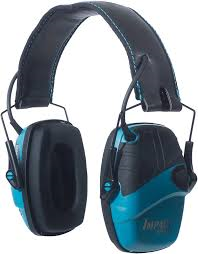 3M Peltor Tactical 500 Headset
This headset is growing in popularity among hunters and outdoor shooters. The headsets features were designed with shooting in mind.
Dynamic suppression time measures the gunshot noise and automatically sets suppression time for reduced echoes and increased comfort. The headset also comes equipped with clear voice tracking that seeks voice in the background and filters noise for improved speech intelligibility.
The Peltor Tactical 500 headset has a noise reduction rating of 26 dB, perfect for shooting. Users of the Peltor tactical have said they get around 18-20 hours of battery life before having to change out the 2 AAA battery but results may vary depending on use.
The price of the Tactical 500 is around $187 found on First Source Wireless.
Key Features:
Low Profile Cups have cut outs for use with long guns

Vented adjustable headband improves comfort when worn with hats

Recessed Microphones prevent damage and reduce wind noise

Bluetooth Technology to stream music and make calls without taking off the headset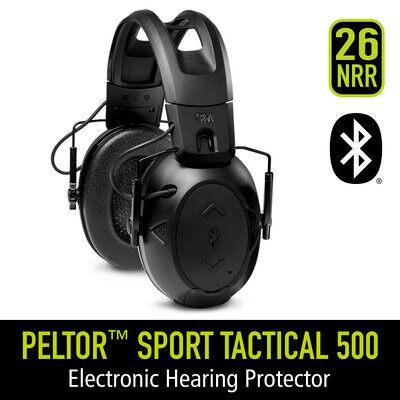 Which Headset is Best for Shooting?
Each of these five shooting protection solutions has its benefits, so no one option will suit everyone's needs. For example, the Howard Leight Impact Sport Earmuff is extremely affordable and does a great job at shielding loud noises, so I would recommend it for those who simply need an entry-level shooting range headset.  
On the other hand, the operator may need to have communication with his/her team, so they might opt for one of the communication optimized options.
Regarding comms, the best options will be the 3MPeltor Comtac V & the TEP-200 depending on your personal preference. The MSA Sordin is a great headset, but for the same price, the Comtac V delivers many more benefits such as environmental listening and talk-through. A headset won't work for everybody, however, and the TEP-200 is a popular option for those who wear protective equipment such as helmets that are not compatible with a headset without the need forARC rails.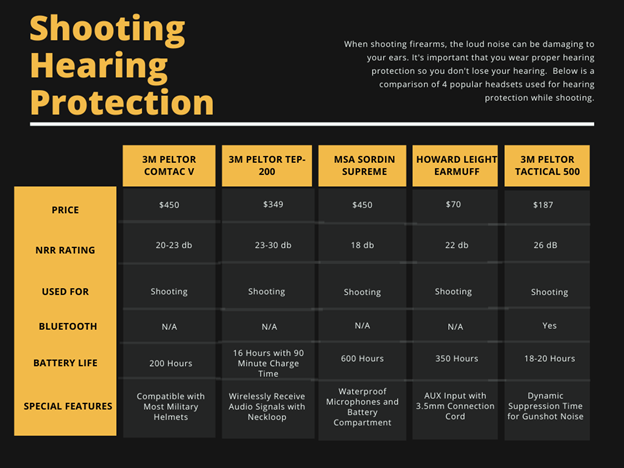 Hearing Protection with Built In Two-Way Communication
3M Peltor FRS Headset
The 3M LiteCom FRS communications headset was introduced as a replacement to the BRS model to meet the needs of the working professional in manufacturing, distribution, or construction.
The most beneficial features include Push-to-talk (PTT) transmit options, comfortable design for all-day wearability, and safeguarding your ears from hazardous noise levels. The FRS has an NRR of 25, making it the perfect choice for an industrial environment with plenty of machinery and other loud noises.
The battery life in the 3M Peltor FRS headset is about 20 hours with a AA battery or a rechargeable NiMH battery pack.
This model costs $575 and can be purchasedhere.
Key Features:
Environmental Microphones

Built-in Programmable Analog and Digital Two-Way Radio

Voice Operated Transmission (VOX) for Hands-free Operation

Bluetooth Connectivity

Waterproof Noise-Cancelling Microphone
3M Peltor Litecom Pro III
3M Peltor upgraded its LiteCom series with the LiteCom Pro III, which features various features and improvements meant to benefit and protect professionals working in the manufacturing, infrastructure, and transportation industries.
The new WS model introduces Bluetooth capability to the LiteCom III, which allows theuser to connect their cell phone. The NRR rating for the LiteCom Pro III varies around 25 to 28 dB. The headband and neckband options have an NRR rating of 28 dB while the hard hat attachment option sits at 25 dB NRR.These wireless two-way communication headsets offer active hearing protection, including a built-in two-way radio, and allow for cell phone connection via Bluetooth.
Regarding price, the LiteCom Pro III is available for $879 onwww.firstsourcewireless.com
Key Features:
Noise Cancelling Headphones

70 Different Channels in Both Analog and Digital Modulation

Built-in Two-Way Radio, Eliminating the Need for Cords & Cables

8 Hour Battery Life, with a Power Save Feature that can Extend to 12 Hours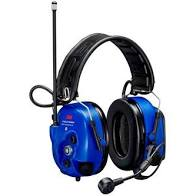 Sensear SM1R
Sensear's SM1R Series is a two-way radio headset that does not require a battery to operate the device, making it the lightest headset in Sensear's collection. This is a big advantage for those working in rigorous jobs such as construction.
The headset also provides reliable hearing protection, limiting in-ear exposure to 82 dB.
To purchase the SM1R, it'll cost you around $320, or $370 for the IS (Intrinsically Safe) option.
Other Features
VOX Capable

Fully Radio-Powered

Available in Headband, Behind-the-Neck, and Helmet-Mounted Configurations

Noise-Cancelling Boom Mic
Sensear SM1B
The SM1B is a much more advanced communications headset than the SM1R and includes a rechargeable lithium-ion battery with a battery life of 24 hours. Moreover, the battery charges in only 5 hours, which makes it extremely reliable for lengthy jobs. Just like the SM1R, it limits in-ear noise exposure to 82 dB and has an NRR of around 23-27 dB.
Other Features
VOX Capable

Noise-Cancelling Boom Mic

Available in Headband, Behind-the-Neck, and Helmet-Mounted Configurations

Compatible with all industry-leading two-way radios

Clear Radio Communication up to 120 dB levels
The headset costs around $700, putting it at the upper end of two-way radio headsets.
Each headset is integrated with SENS (Speech Enhancement, Noise Suppression) technology which goes above and beyond other headsets in noise cancellation. The feature brings low noises into high noise environments, allowing users to hear their surroundings and communicate while suppressing harmful noises that cause hearing loss.
Which Headset is Best for Two Way Radio Communication?
Each of these headsets was fairly simple to use, and it'll depend on what you intend to use it for when choosing what to purchase. Of these products, I felt that the 3M Peltor LiteCom FRS was the best quality for the price and has similar features to the LiteCom Pro III which costs a few hundred more.
The biggest advantage the LiteCom Pro III has over the others is Bluetooth integration, so that is your best choice if you require a cell phone connection.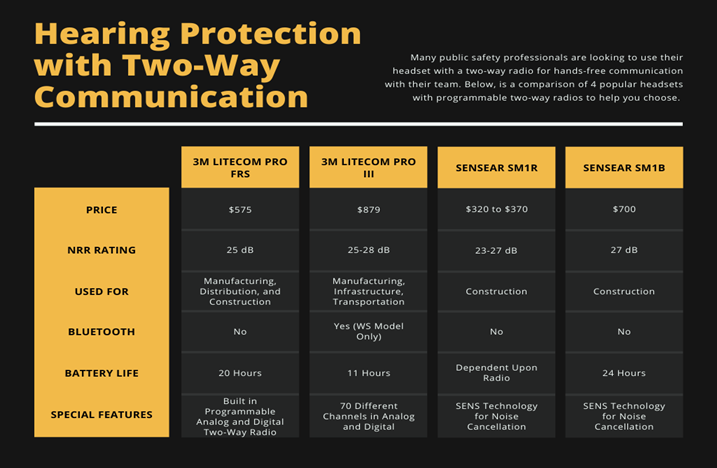 Hearing Protection with Bluetooth Capabilities for Use with External Devices
3M Peltor XPI Headset
The 3M Peltor WS ProTac XPI combines the power of Bluetooth and hearing protection to create the perfect wireless safety communications headset for workers in airports and manufacturing plants.
Painted bright yellow, this headset has extremely high visibility meaning your co-workers will be able to see you at all times.
Technical features of this device include Multipoint Bluetooth ® Connectivity, environmental listening, VOX, and an IP68 Noise Cancelling Microphone.
The NRR for the XPI headsets ranges from 24 to 26 dB, which is an ideal level for the industry workers the headset is designed for.
Regarding cost, the base model of the XPI will run for about $599, which is relatively lower than most wireless Bluetooth headsets. The neckband model, which can be accessed here, costs a little more at $629, however, offers the additional features of a PTT button on the earcup and an FLX2 AUX port allowing a wired connection to a wide range of two-way radios.
Additional Features:
45 Hour, Rechargeable Battery with the Option to Use AA Batteries

Compatible with Icom, Kenwood, Motorola, & Sepura Radios

Level Dependent Function

Available in Headband, Neckband, & Helmet Attached Variations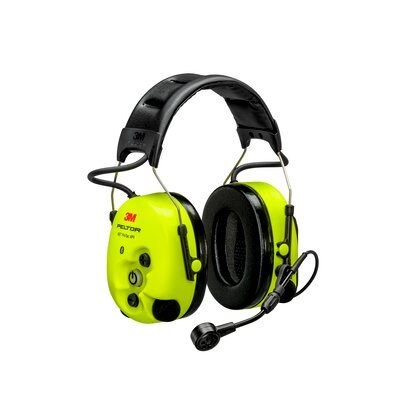 Sensear SM1P02 EX Series Headset
This is the most advanced headset produced by Sensear, with the dual purpose of either communicating via Bluetooth/Bluetooth Cellular or by two-way radio. Similar to the Sensear SM1, the headset limits in-ear noise exposure to 82 dB and has an NRR ranging from 23 to 27 dB.
The battery is a big advantage in this headset – fully charged, the SM1P02 lasts 24 hours on a wired connection, 18 hours on Bluetooth, and charges right back up in less than 4 hours.
Additional Features:
SENS 360 Situational Awareness

VOX Capable, Noise-Cancelling Boom Mic

Compatible with Radio via Bluetooth or PTT Module

Up to 8 Programmable FM Channels

IP54 Ingress Protection Rating
The Sensear SM1P02 is perhaps the most expensive headset on my list, but also comes in as one of the most advanced. You can buy the headsetnow on Sensear's website for $900.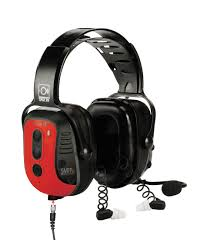 Sonetics APX379  Wireless Headset
The Sonetics APX 379 protects from hazardous sound levels, reducing them to a comfortable and safe level for the user. This headset has the dual capability of Bluetooth and wired connection, making it another versatile choice.
This headset offers similar Bluetooth capabilities to the above 2 headsets such as calling and audio streaming, as well as a 24-hour battery life that will recharge in 4 hours. This headset costs around $625 but is not currently available to purchase on Sonetics' website. If interested in this headset, contact Soneticshere.
Additional Features:
IP66 Ingress Protection Rating

Suppresses Hazardous Noise Levels While Enhancing Lower Sounds

Energy Saver Sleep Mode Keeps One Year of Shelf Life Without Losing Charge

Listen-Through Situational Awareness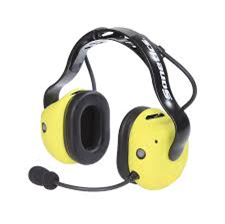 Which Headset is Best for Bluetooth?
Considering the benefits and price of all three headsets, I recommend the 3M Peltor ProTac XPI as the best Bluetooth communication solution. First off, the XPI is rated at IP68, which is the highest Ingress Protection rating. An airport employee would benefit from this especially because it is guaranteed to keep out the rain as opposed to the other 2 options.
Additionally, the XPI boasts a battery life of 45 hours, which dwarfs that of the Sensear & Sonetics headsets. Finally, the XPI is priced much lower than the other 2 headsets without compromising quality or features, especially when compared to the Sensear SM1P02.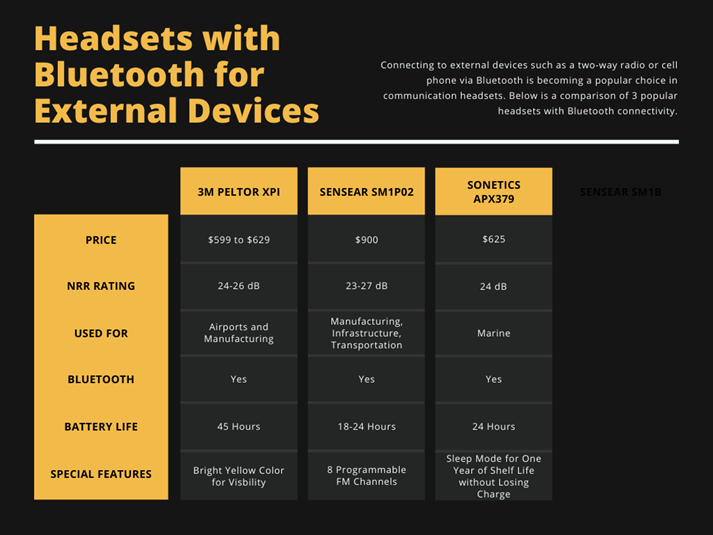 Hearing Protection with Use of Earplugs
3M Combat Arms Earplugs
A cheap, effective, and low-profile option to protect your hearing is the 3M Combat Arms ear tips. These reusable ear tips are designed to be used with your 3M headsets to enhance noise reduction and promote comfort. 3M manufactures a variety of earplugs, including the Ultrafit Communication Tip, Peltor Skull Screw Communication Tip, and Peltor HearPlugs Foam Tips.
You can shop all of 3M's ear tips at First Source Wireless'swebsite in Small, Medium, and Large sizes and carry NRRs ranging from 24 – 32 dB.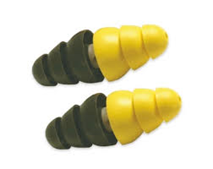 Honeywell Howard Leight Laser Lite Disposable Foam Earplugs
Honeywell's Laser Lite earplugs are designed for single-use and are worn by themselves without additional protection. These earplugs are brightly colored to increase the visibility of protection, self-adjusting to conform to every wearer's ear, and smooth, soil-resistant texture that blocks dirt build-up.
These earplugs offer an NRR of 32 dB, which is exceptional for hearing protection.
You can purchase these earplugs on Honeywell's websitehere.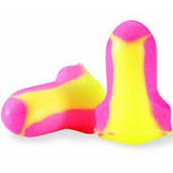 Which Earplug is Best?
First off, if you are using a headset to communicate then you'll want to go with the 3M Combat Arms ear tips. If you are looking for a more simple form of hearing protection, then the best options would be the Honeywell Howard Leight Laser Lite earplugs.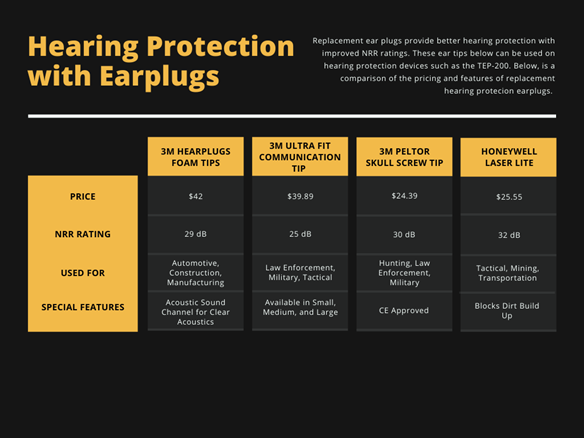 Final Thoughts
I created this breakdown of hearing protection and communication solutions to educate you on the vast set of options for communications headsets, and assist you in deciding which level of protection you need, what features you require, your budget, and much more so you can decide which headset is right for you.
As a review, here are my top choices I recommended for each section above:
Shooting
Howard Leight Impact Sport Earmuff

3M Peltor Comtac V Hearing Defender
Hearing Protection with Built-in Two-Way Radio Communication
3M Peltor LiteCom FRS

3M Peltor LiteCom Pro III
Hearing Protection with Bluetooth Capabilities
Hearing Protection with Earplugs
3M Skull Screw

Honeywell Laser Lite
First Source Wireless is a registered dealer of 3M Peltor headsets and communication accessories. They provide an assortment of headsets for any industry or use. Chat with them today to purchase your hearing protection headset.
---
About the Author
Kyle Bryant is a Copywriter for First Source Wireless and Waveband Communications providing its readers with knowledge on two-way radio communication and hearing protection headsets. Over the years, Kyle's work has been published in various tactical and law enforcement websites and magazines.