What is a National Stock Number?
A National Stock Number or NSN is a label that is applied to an item that is purchased and used repeatedly throughout the federal supply system. When an NSN is assigned, data is then put together to describe the item in detail. Some of these details can include name, manufacturing part number, price, and characteristics like weight and height. 
NSNs were first introduced in World War II. During this time, a product could have several names applied to it, making it hard for someone to locate the supplies they need. They needed a system where an item only had one name and that's when NSNs came into play. The system standardized items so various names for a single product were alleviated making it easier across manufacturers and purchasers.
These NSN's are a part of the military supply chain and are used in storing and managing these items. With 6 billion NSNs now in the federal supply chain, it is being used by the United States government, NATO (North Atlantic Treaty Organization) and governments around the world. They are also used by the Department of Defense.
NSNs help government agencies purchase and manage supplies yearly. This one number that is associated with a product can be recognized where ever you are, whatever language you speak, or what branch of the military you are in. That's what makes the NSN's so important and unique to military units across the world. 
Why is it important to have an NSN?
National Stock Numbers are important to have because of a few reasons
Simplifies the acquisition process for items that are frequently purchased. This makes it easier for you to order products because they were previously purchased and have met requirements

Helps by standardizing items that have similar names

Improves government inventory capabilities

Provides pricing history to reduce costs when negotiating contracts

Reduces overall administrative costs
How Can I Get a National Stock Number?
Unfortunately, companies cannot request NSN's for their products. NSNs are applied automatically after an order has surpassed a certain point. For example, if one of our products is continually being ordered, an NSN will be assigned automatically without the need for paperwork.
To get an NSN without a certain amount of orders, a DD Form 1348-6 form can be used to order a product. By filling out this form an NSN can now be assigned to the product without an order limit needed.
After the form is completed, requests are forwarded to a person in the appropriate supply chain to be cataloged and then transferred to the DLA Logistics Information Service for the NSN assignment. We have provided an example of a completed NSN below to use as a reference.
Example of DD-1348-6 Form
Below are details on each section of the DD-1348-6 Form and a partial completed form for guidance.
Manufacturing Code and Part No: The part number can be found just above the add to cart button on all product pages
Manufacturers Name: Company name in which you are purchasing the product from
Manufacturers Catalog Identification: If available enter the catalog id number in which you are purchasing from
Date: YYMMDD format

Technical Order Number: 

If applicable

Technical Manual Number: 

If applicable

Name of Item Requested: Enter the name of the item requested
Description of Item Requested: Enter the description of the item you are purchasing

Color

Size

End Item Applicable: Entry should cite NSN. If not applicable enter unknown

Supply Source

Make

Model Number

Series

Serial Number 

Requisitioner: Enter your name or DSN number, address, zip code
Remarks: Enter any additional information you feel necessary for the supply source to obtain this item.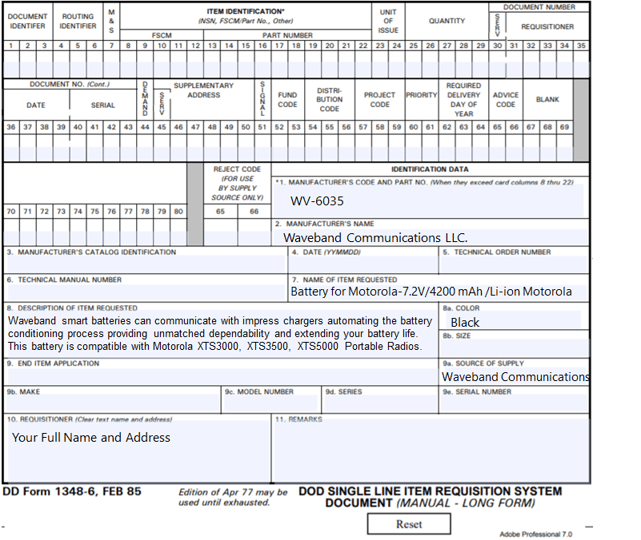 Waveband Communications Products with NSN's
Some of our products already have National Stock Numbers associated to them. You can find the products below as well as their NSN numbers.
NSN: 5965-01-619-5396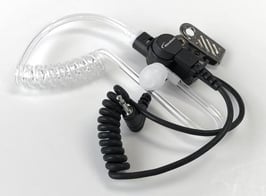 NSN: 6140-01-587-6279