What is APCO?
APCO (Association of Public-Safety Communication Officials) 2019 is the premier event for public safety communications officials and industry professionals. Over the course of 4 days, APCO 2019 will host educational sessions, committee meetings, and special events along with a slew of exhibits from various organizations specializing in the communications industry.
When and Where?
The Conference & Expo will be held at the Baltimore Convention Center, 1 W. Pratt St Baltimore, MD 21201 from August 11th to the 14th 2019
The Exhibit Hall will be open during the second half, August 12th to the 13th

Several hotels surrounding APCO 2019 will be offering special discount rates for conference attendees

Waveband Communications will be at booth #1138
Who will be there?
There will be over 5,000 attendees at this year's conference representing a vast range of organizations. This includes emergency communications centers, service providers, law enforcement, fire service, emergency medical services, government agencies, and commercial vendors.
Why Should I Attend?
Education: Attendees can earn up to 16 CEUs (Continuing Education Units) from 9 professional development tracks with over 100 individual sessions focused around frontline telecommunications, leadership development, communication center management, cutting edge issues, technology & more. APCO Institute also offers pre-conference courses for more in-depth training.
Networking: Attend four special events with exclusive speakers that offer an opportunity to learn and participate in industry building activities with other public safety attendees and exhibitors.
Exhibits: Representing a wide array of communications products and services, over 275 vendors will be launching and displaying new products, testing equipment, and meeting with conference attendees to discuss purchases, problems, or to network.
Involvement: APCO 2019 attendees will have the opportunity to attend ECC (Emergency Communication Centers) tours, career advancement sessions, healthy living seminars, as well as local blood drives. All conference attendees will be invited to general business sessions, and qualified APCO members will be able to vote and attend committee meetings.
Fun: APCO 2019 attendees will have access to the APCO Block Party to meet other attendees and tour the city of Baltimore with special discounts to area attractions.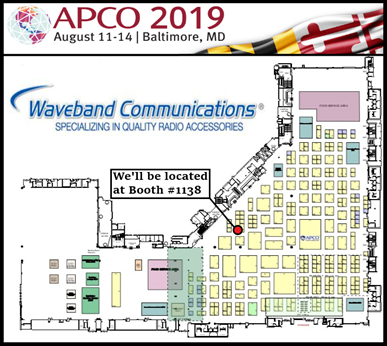 What Waveband will be doing at APCO 2019
Join our APCO 2019 exhibition to learn about Waveband Communications and the top-quality products we provide.

We'll be showcasing our new Harris XL-200 Portable radio accessories

Finally, we'll be doing a special giveaway of an Amazon Echo to one lucky visitor! Don't forget your business cards!
Comment below and let us know if you plan on attending! You won't want to miss this. See you there!