Two-way radios are a big investment so protecting them during activities and different environments is important. Holsters and cases for your two-way radio help protect your radio from damage, water, and dust by holding it securely in place. There are many different styles of cases that are guaranteed to fit your radio how you want.
In this guide, we'll explain the types, materials, and sizes of two-way radio holsters. This will help you choose the right two-way radio case for your radio.
Types of Radio Cases
There are different styles of cases that can be used for your radio. In each style, the back of the case is designed to attach your holster to yourself in different ways. The types of radio holsters are belt loop, clip, swivel, and D-ring firefighter style.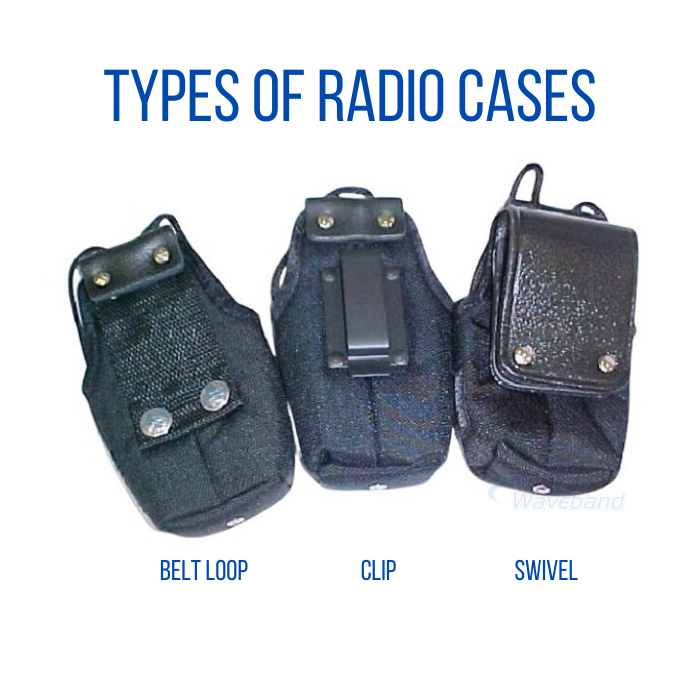 Swivel
The swivel belt loop on the back allows for the radio to be rotated 180 degrees in either direction. A swivel is a great option for adjusting your radio when sitting in different positions. These cases are belt loop, so your belt goes through the loop. The case will then rotate around the belt loop attachment.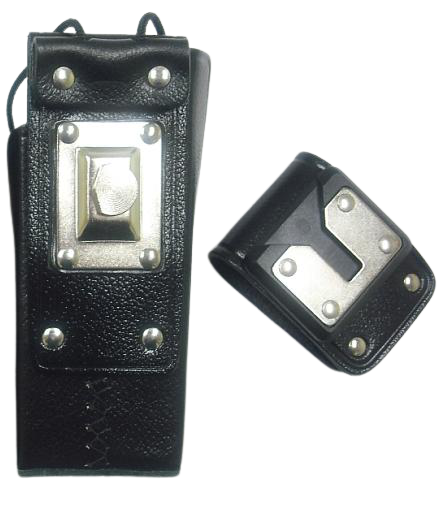 Clip
The clip is found on the back of the case and can be clipped onto a utility belt or waist.
Belt Loop
With this style, the loop on the case will slide through your belt, holding securely in place.
D Ring Firefighter Style
This style is popular among firefighters and EMS. The case will have 2 D rings at the top of the holster. This allows a clip from a shoulder strap to attach to the case letting it be harnessed around the person's body and the radio hang by your side. Anti-Sway straps are used to keep the radio secure by your side and not move around while working.

Shoulder Radio Straps
You can purchase shoulder radio straps that clip onto the d rings of your holster and keep it attached to your side. This is popular with firefighters who are already wearing heavy equipment and uniforms. These straps securely hold your radio in place, so you won't lose it during important times.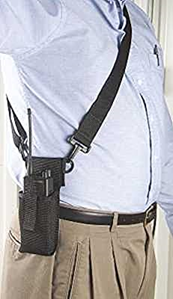 Materials
Radio holsters can come in two different materials. Leather and Nylon.
Leather cases are proven to take on some of the toughest environments. Leather is constructed more durable, so it lasts long. They can sometimes be made from genuine cowhide leather like the ones offered by Waveband Communications.
Nylon cases are comfortable and flexible but are still known to withstand any environment and keep your radio secure.
It's up to your personal preference on the type of materials you want your case to be made from.
Sizes
Two-way radios come in different sizes to correspond to the size of your radio. When searching for a case, you must find a case that's compatible with your radio. Compatible means the same measurements as your radio for a proper fit. If you have a Motorola APX 6000 you must find a radio holster for APX 6000 to ensure it fits.
Holsters are designed to properly fit your radio to help reduce the risk of losing your radio during movement or becoming damaged.
In some instances, radios can have a small battery and a large battery option. You need to make sure your radio battery will fit in your case. Find a case designed for that battery type. As mentioned in the example above, Motorola has the APX 6000XE which is a bigger battery than the APX6000.
Overall, two-way radio holsters help protect your investment from loss or damage. Ideally, you want a durable case in either nylon or leather materials. Keep in mind the size of your radio and case to ensure it's compatible. You don't want it too loose or too small. This will help you in choosing the right two-way radio holster that's perfect for you.
Waveband Communications offers heavy-duty two-way radio holsters made from genuine cowhide leather manufactured in the USA. Waveband cases are used by thousands of firefighters, law enforcement, and public safety nationwide. Interested in purchasing a radio holster? Shop now.
About the Author
TAYLOR THOMAS is a Marketing Manager at Waveband Communications. With her experience in critical communications, she helped public safety clients enhance their team communication through the help of two-way radio accessories.